How Energy Efficiency Impacts You, and What You Can Do About It

By Gabrielle Rodriguez and Georgia Mae Lively–11/22/2019
Home energy usage is the largest contributor to an individual's carbon footprint.  In fact, energy usage in residential properties accounts for 20% of carbon emissions in the US, and nearly 30% of the energy used in Philadelphia buildings is wasted.  This wasted energy escapes through leaky windows, poorly insulated walls, and inefficient appliances and can really add up, in more ways than one.  As a result, energy efficiency has become vital in combating energy waste and carbon emissions.
Energy waste not only impacts the environment, but translates into higher costs for everyone.  This is known as household energy burden, which is reflected in the percentage of annual income that is typically spent on energy bills.  For some, that amount represents an extreme burden when compared to income levels.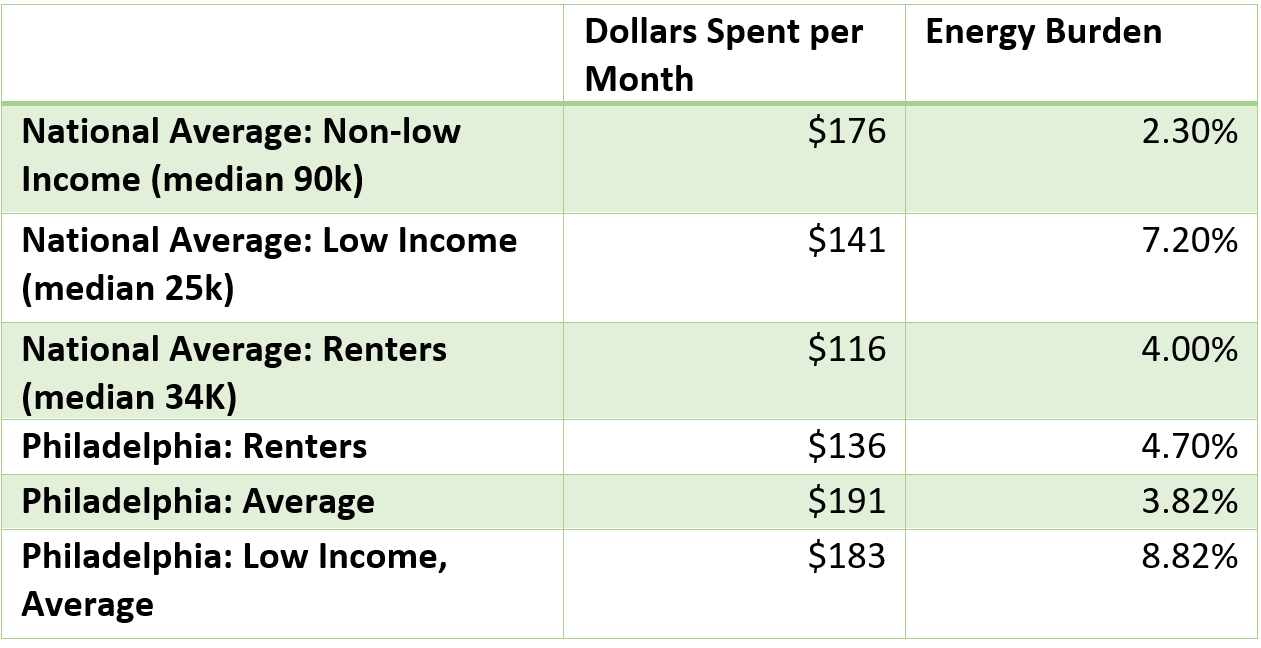 Source: https://aceee.org/sites/default/files/publications/researchreports/u1602.pdf
But something as simple as a home energy audit and some small changes can help you reduce energy waste and cut your monthly bills by 25%.  A home energy audit is a tool for understanding how much energy your home uses, where that energy may be escaping from, and what kinds of repairs and updates should be made to improve your home's energy efficiency.
In order to make this accessible to our members, The Energy Co-op is pleased to announce a new initiative with the Energy Coordinating Agency (ECA) to provide comprehensive home energy audits to our members beginning on December 1st, 2019.  Stay tuned for more information in our blogs and newsletters!
Energy audits aren't the only tools available for reducing energy waste and making homes more energy efficient.  There are many actions anyone can take and a number of organizations and services available to help individuals lower their costs, particularly if you are among those who bear the highest energy burdens:
The Energy Co-op's mission includes assisting our members in using energy responsibly and to cut down on waste, both in terms of money and the energy itself.  We are thrilled to offer our members tools that will help them save both their money and the planet through energy efficiency.