Spotlight on Renewable Energy Technology: Offshore Wind Power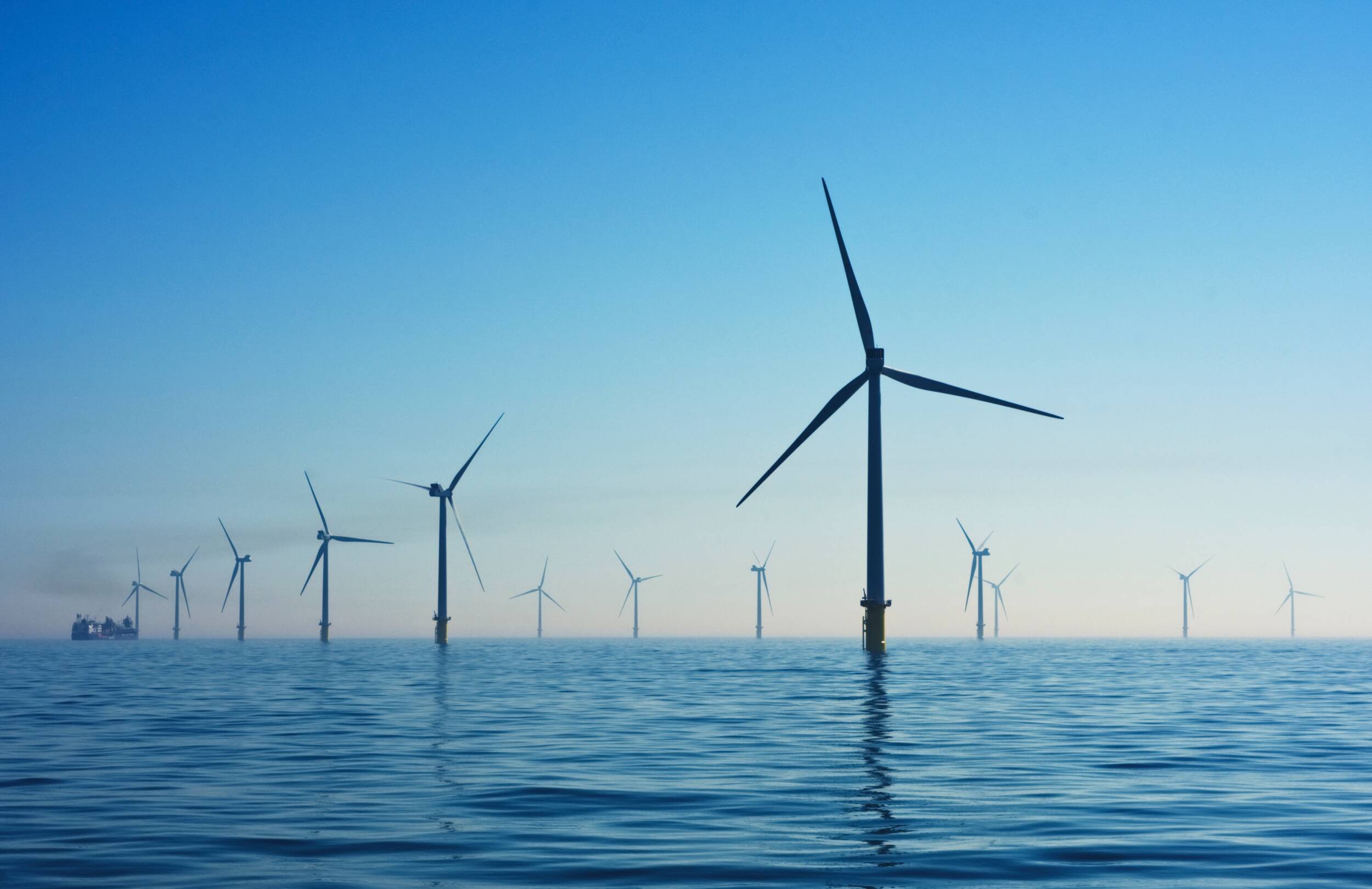 By Eric Miller – 8/31/23
Spotlight on Renewable Energy Technology: Offshore Wind Power
Harnessing high wind speeds and abundant open waters, offshore wind power is an inexpensive and relatively untapped source of renewable energy around the world. Unlike ideal wind turbine sites on land which are often located in remote areas away from high electricity consumption, offshore wind has the ability to generate significant amounts of energy near population centers, with roughly half of the world's population living within 200 kilometers of the coast. As of 2023, the United States remains a small player in offshore wind development, though the Biden administration has taken steps to change that. To understand how offshore wind fits into America and Pennsylvania's clean energy futures, first let's begin with an assessment of offshore wind around the globe.
Surveying Offshore Wind around the World
Long touted as an exciting future technology, offshore wind farms first came to fruition in Europe, with the first being built in 1991 in Denmark. European nations bordering the North Sea and its high-quality wind conditions quickly followed suit, and The European Union became the world leader in offshore wind from the early 90's to the early 2020's. The graph below from the 2019 International Energy Agency's Offshore Wind Outlook shows actual offshore wind capacity represented in light blue and planned offshore wind capacity represented in dark blue.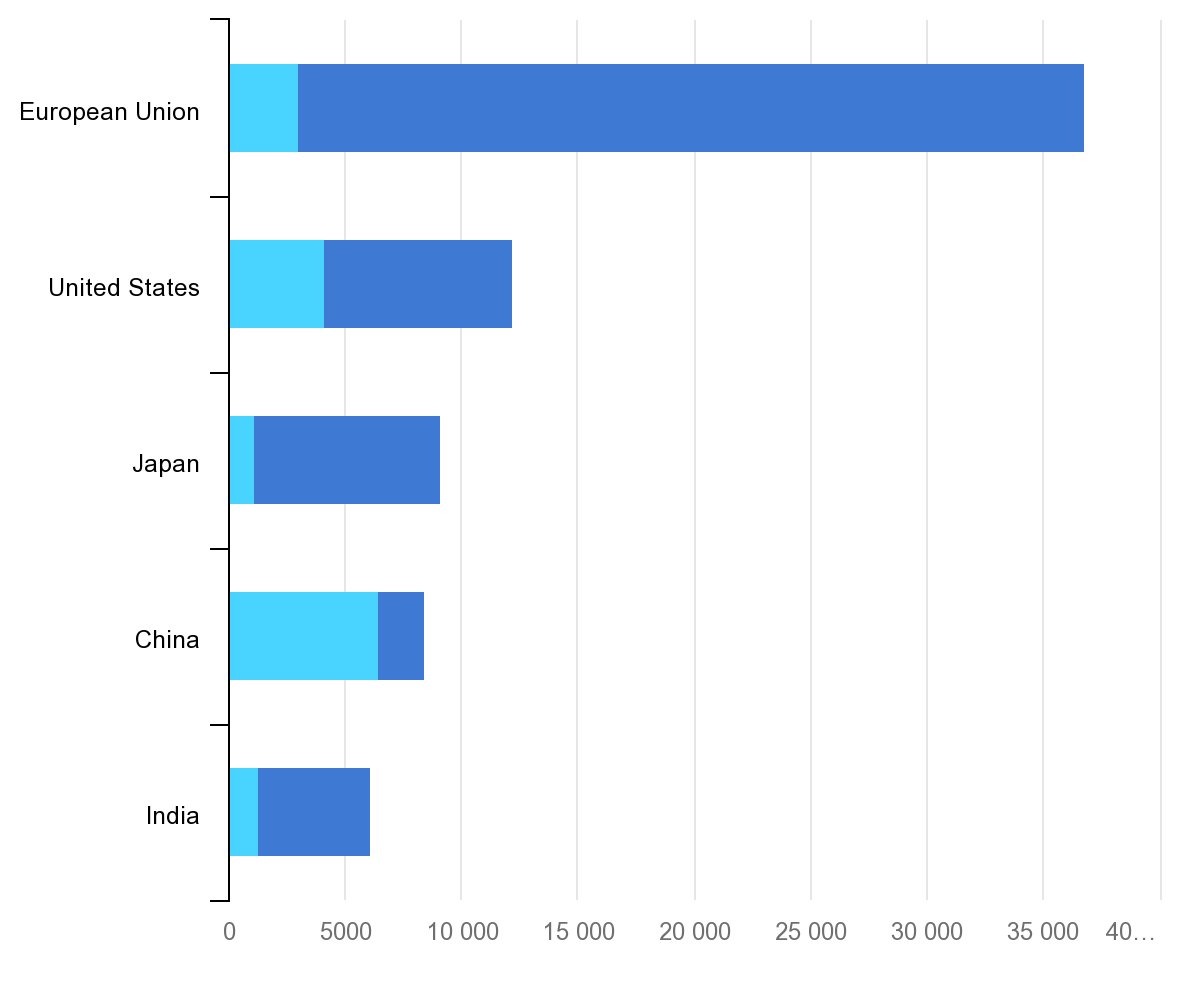 (IEA Offshore Wind Outlook 2019)
Since then, however, the international offshore wind picture has changed drastically, with China making significant investments and progress in developing their nation's offshore wind technology and infrastructure. In 2021, they became the world leader in offshore wind generation capacity and number of planned and active offshore wind sites. Due to their ambitious capacity and construction goals, they look to remain so for the foreseeable future.
Surveying Offshore Wind in The United States
The United States has some of the world's best potential offshore wind conditions, with strong winds blowing across thousands of miles of coastline. Roughly 80% of Americans live within 200 miles of the coast, placing large swaths of energy consumers in range of an offshore wind generation facility. Research indicates that offshore wind could supply between 10 and 25% of America's energy demand by 2050 and create nearly 400,000 clean energy jobs, while expanding grid reliability due to the strongest offshore winds blowing during peak electricity hours.
Despite this massive potential, offshore wind capacity in the U.S is still exceedingly underdeveloped. Currently, there are only two operational offshore wind generating facilities in the United States: one in Virginia and another in Rhode Island, which have a 12-megawatt and 30-megawatt generation capacity respectively, and account for 0.1% of international offshore wind generation. To provide a sense of scale, that 30-megawatt generation capacity is only enough to supply electricity to 5% of the homes in Rhode Island, America's smallest state. While other countries around the world were quick to invest in offshore wind technology and development, The United States was slow off the starting block due to a lack of political and financial will, prohibitive state and federal regulations, and a lack of ambitious goal setting.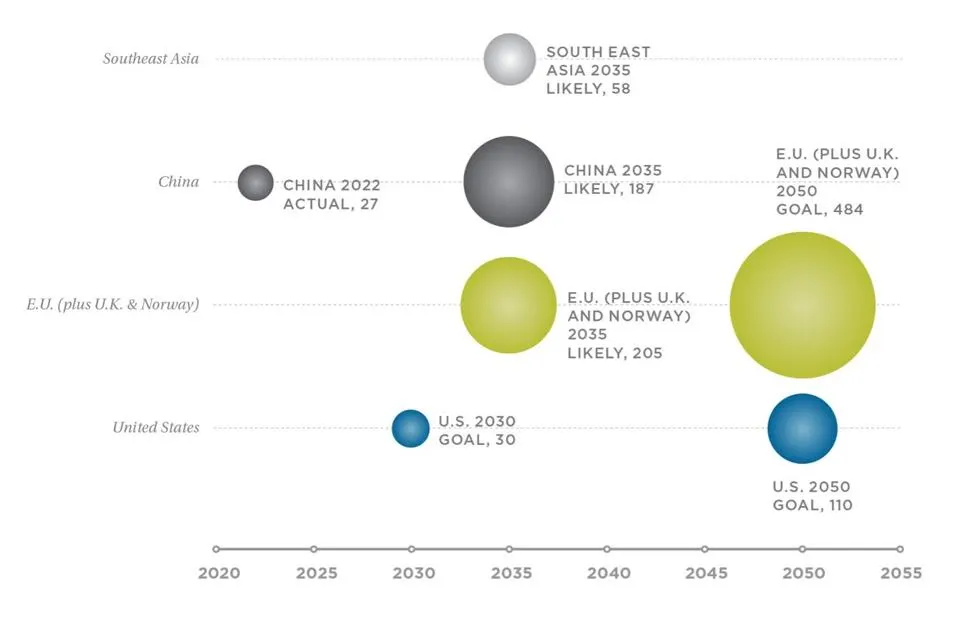 (Forbes)
Despite these factors, the Biden administration has made offshore wind a priority more than any other administration in the past. They have set a goal of deploying 30 gigawatts of offshore wind generation capacity by 2030, developed a robust offshore wind leasing strategy, and boosted funding for enhanced research and development into offshore wind technology. Construction began in 2022 on two commercial scale offshore wind farms in New York and Massachusetts, and 11 states already have enough proposed offshore development to meet President Biden's 30-gigawatt goal, with new projects gaining approval by the federal government at a rapid pace.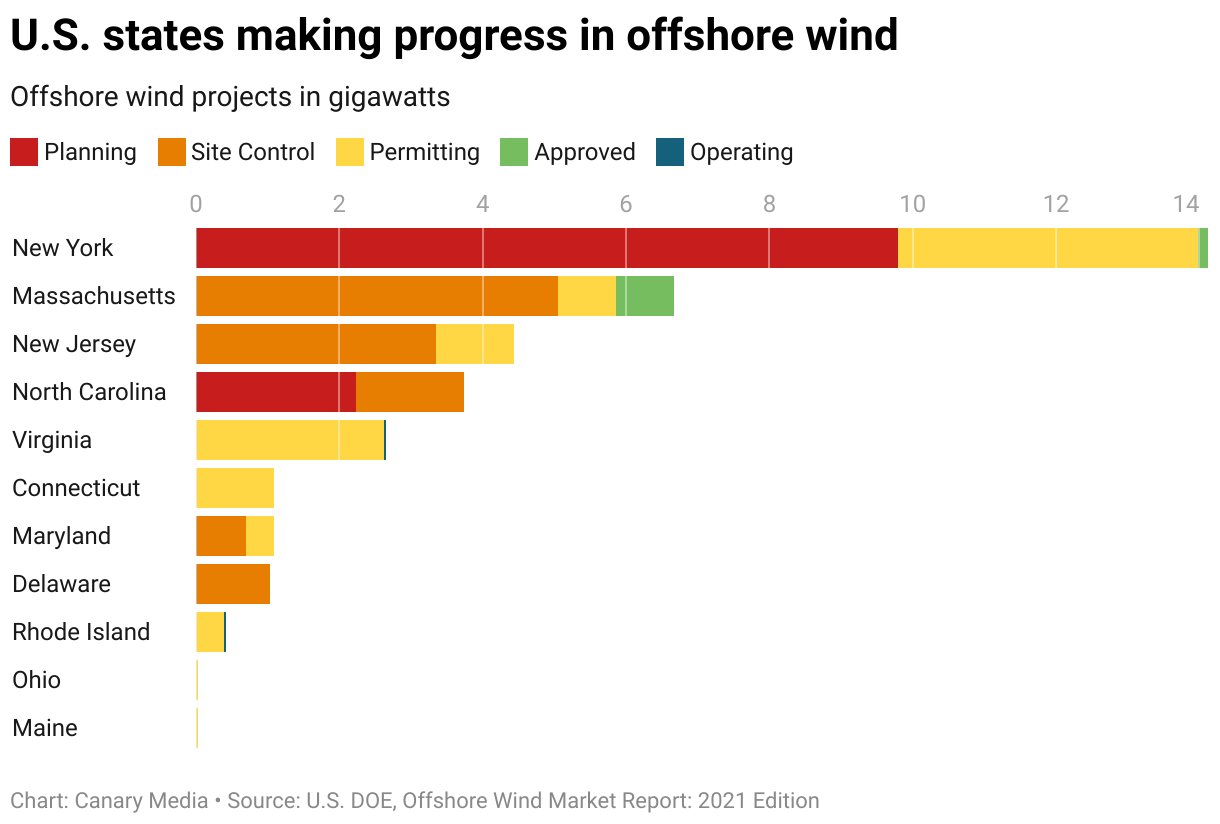 (United States Department of Energy)
Surveying Offshore Wind in Pennsylvania
While not a coastal state, Pennsylvania has a lot to gain from offshore wind development as well. Its proximity to offshore wind leaders like New York, New Jersey, and Delaware make it a possible beneficiary of the offshore wind energy that will eventually be on the electricity grid, and there are even some unique opportunities for aquatic wind development in the commonwealth as well.
Pennsylvania State Representative Bob Merski introduced legislation this session to develop areas of Lake Erie for wind generation and allow PA to reap some of the clean energy benefits of offshore wind. Similar legislation has been introduced in other Great Lake States, a region which produces a quarter of the United States' greenhouse gas emissions. According to the Great Lakes Offshore Wind Energy Consortium, the Great Lakes represent nearly 20% of the possible offshore wind capacity in the United States. While the Pennsylvania legislature has not shown any action towards advancing Lake Erie offshore wind development legislation just yet, this legislation represents an innovative clean energy solution for Pennsylvania that would allow the state to become a key player in offshore wind development.
But there are plenty of indirect ways that Pennsylvania can benefit from offshore wind production as well. The clean energy evolution will necessitate an entirely new workforce, one that is skilled to build and maintain renewable energy infrastructure. Offshore wind development requires significant support infrastructure like heavy duty ships with the capacity to ferry building materials out into the open ocean. The Philadelphia Shipyard is employing 1,000 people to build The Acadia, a vessel that will bring rock from quarries to the ocean floor as part of offshore wind farm construction throughout the northeastern United States. This project and others like it will bolster the Philadelphia Shipyard's employment force and provide union jobs supporting clean energy infrastructure for many in the Philadelphia region.
The Challenges and Future of Offshore Wind Development
While the future of American offshore wind is looking more promising than ever before, there are still challenges that stand in the way of it becoming a truly ubiquitous source of clean power. Perhaps the most significant and visible are the legal and community challenges to offshore wind farms. Organizations throughout the nation have mobilized against offshore wind, citing aesthetic, economic, and environmental concerns. In New Jersey, groups like Save Long Beach Island and Protect our Coast NJ have launched legal challenges against a proposed New Jersey offshore wind farm. They have cited concern for marine habitats, bird life, and migration corridors, as well as the potential negative economic externalities of offshore wind to the tourism industry as the reasoning behind the legal action. Though careful attention must be paid to ensure the environment is not negatively impacted by any infrastructure project, most studies agree that any harm done by offshore wind development is low, and far outweighed by the long term, compounding impacts of the climate crisis which wind power actively diminishes.  Furthermore, some anti-offshore wind activist groups have been accused of astroturfing, due to the funding links between their lawsuits and groups that support climate denial and increased fossil fuel development.
While the Biden administration's investment in offshore wind development is the most significant in American history, some argue that it is not ambitious enough, especially when compared to the long-term investments and goals being made in China and the European Union. Given the political polarization and long project completion timelines surrounding offshore wind development, The United States is on shakier ground than nations with a unified national strategy to develop offshore wind. 2024 could see the United States with a new President and/or congressional party makeup, and these changes in government could have major implications for the ability of offshore wind projects to be approved, receive appropriate funding, and ultimately, join the electricity grid. Lastly, there is the issue of transmission. For the power generated by offshore wind farms to reach population centers, wind facilities must be linked with the existing electricity grid. This will necessitate a capacity increase for our current electricity grid to handle these new electricity hookups, as well as cooperation between numerous coastal communities and those along the onshore electricity routes that connect to the grid.
But for now, the future of offshore wind in America looks bright, and new projects continue to accelerate across various stages throughout the United States. The potential for American offshore wind is robust, but ambitious goal setting and direct federal investment will remain crucial for the United States to become a world leader in offshore wind development. In Pennsylvania, our leaders have a role to play in making sure that Pennsylvania's clean energy future is inclusive of offshore wind, whether that is through partnerships with nearby coastal states for grid integration, Great Lakes wind development, or job creation to support offshore wind infrastructure. With their robust generation potential, offshore wind farms could be a huge part of working to address the climate crisis and provide a healthy boost to America's goal of achieving a carbon pollution free power sector by 2035 and a net zero emissions economy by 2050.