Philadelphia Energy Authority Grows the City's Clean Energy Economy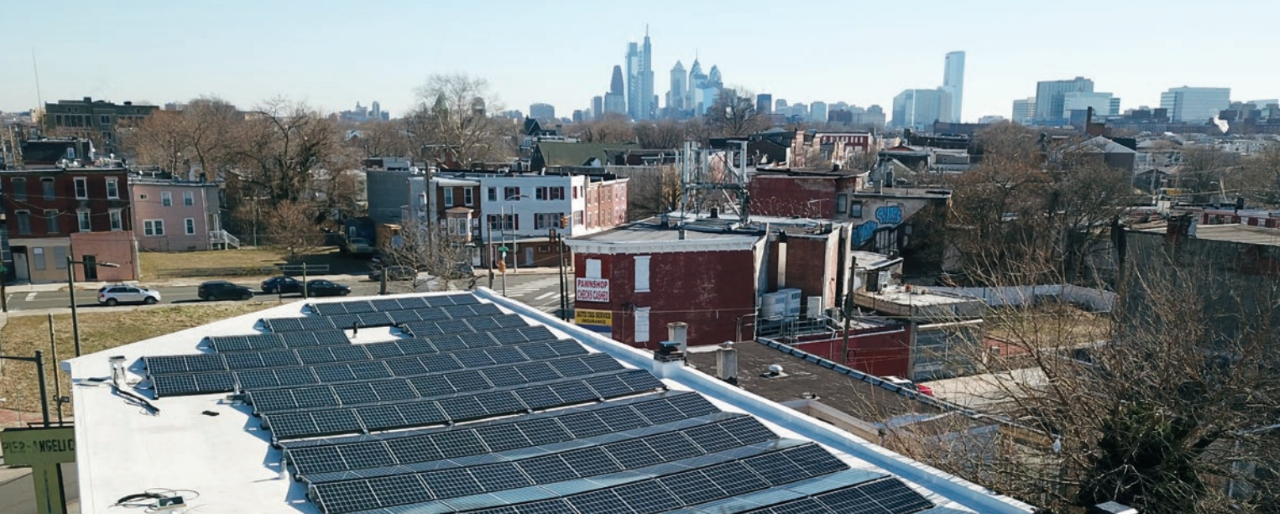 By Alexandra Kroger 12/7/2021
Last month the Philadelphia Energy Authority (PEA) released its Annual Report for 2019-2020. PEA, a friend of The Energy Co-op, was formed in 2010 with a mission to facilitate "the growth of a robust, equitable, diverse clean energy economy in Philadelphia through the development of long-term energy projects, policy, education and market-building activities." Over the course of the 2-year period detailed in the report, $81 million was directed towards clean energy development, and 1,700 new jobs were created and supported.
The report is particularly noteworthy because it comes near the midpoint of the Philadelphia Energy Campaign, a 10-year initiative to address some of the city's most critical and pressing challenges through the growth of a clean energy economy. The Philadelphia Energy Campaign is defined by four goals:
     

Cutting energy bills

     

Creating jobs

     

Reducing air and water pollution

     

Strengthening communities
To progress these goals between 2019 and 2020, PEA employed a varied set of strategies, from direct investment in renewable energy and energy efficiency projects, to partnerships with public schools and workforce development agencies, and by contracting to ensure affordability of critical home services and long-term homeownership. PEA's signature programs, including Solarize Philly and C-PACE, attain success through a comprehensive approach of providing financial incentives as well as resources and education for owners of homes and businesses who are seeking to reduce their carbon footprint, save on energy costs, and increase the value of their buildings. Between 2019 and 2020, PEA facilitated the investment of $8 million in clean energy projects through the C-PACE program and enabled the signing of nearly 350 contracts for new residential solar arrays through Solarize Philly. The next major undertaking of PEA in this arena will be the launch of the Philadelphia Green Capital Corp, a financial venture whose sole objective will be unlocking capital for clean energy projects.
One of PEA's critical focuses with the most far-reaching benefits is in youth education and career development programming. PEA's signature program in this area is Bright Solar Futures, a vocational program directed towards serving people of color and those who are un- or underemployed that was launched in 2019 to prepare young Philadelphians for a wide array of careers in the solar industry. The Bright Solar Futures program leverages the power of community through its impressive network of partners. Through the Solar Fellowship program for Opportunity Youth, PEA partners with PowerCorpsPHL to provide eligible youth with solar installation and design training from partners Solar States and the Energy Coordinating Agency (and Solar Fellows receive a stipend during their participation in the program).
The report details how PEA is taking innovative approaches to bring clean energy to all Philadelphians:
Clean energy isn't truly sustainable if it is not affordable for everyone, and that's the final way that this report shows how PEA distinguishes itself as an organization that seeks to improve the lives of all Philadelphians. In 2019 and 2020, PEA began working on Built to Last, a program whose goal is to ensure long-term housing affordability through building energy performance improvements. After engaging in two years of stakeholder outreach, partner coordination, and program design, PEA is ready to launch pilot phases of the program, facilitated by grant funding. Single-family, low-income homeowners will receive assistance with applying for coordinated home repair programs. Potential improvements may include conversion from inefficient heating systems to electric heat pumps for heating and cooling, and assessment to determine if the home would be a good candidate for a rooftop solar array.
The resounding theme throughout the PEA report is how the clean energy development goals being pursued in all of PEA's work are undertaken with a specific commitment to equity and social justice. What makes PEA's fulfillment of the Philadelphia Energy Campaign so notable is the holistic sensibility of the endeavor – through funding, coordination, education and outreach efforts, PEA reduces significant market barriers to clean energy, particularly for groups who may have the least resource and access. At the same time, PEA's focus on career training and education prepares a new generation to enter the clean energy workforce to meet the new market demand. Like The Energy Co-op, PEA understands that education and community power are key to attaining a sustainable clean energy future. Having set the stage for future success in the early years, PEA seems well on its way to achieving the goals of the Philadelphia Energy Campaign.