The Energy Co-op – A Co-operative Business in Action

By Georgia Mae Lively – 9/23/2019
Co-ops differ from other businesses because they have the ability to exert market power through membership, oversee management practices democratically, address niche needs in the market through innovation, and advance non-profit missions.  So how does that work for an energy supplier like The Energy Co-op?
The Energy Co-op was formed in 1979 by members of Weavers Way Food Co-op in Mount Airy.  That year's oil embargo had caused prices for home heating oil to go through the roof.  In response, the Energy Co-op's heating oil program was formed as a way for heating oil consumers to use sheer numbers to lower individual costs by buying in bulk.  Our heating oil program, to this day, allows members to buy home heating oil at reliably affordable prices, which helps increase access for many low-income Pennsylvanians.
In 1999, the Energy Co-op added its renewable electricity program to provide a clean energy option to those concerned about poor air quality, making it the first independent supplier of renewable energy in southeastern Pennsylvania.  At the time, renewable electricity was not considered profitable enough for other businesses to fill that niche.  But because the Energy Co-op is a non-profit, we can drive innovation in the energy industry because it's a part of our mission, not necessarily because it's profitable.
Likewise, in response to the spread of hydraulic fracturing in natural gas production, we were the first to add the renewable natural gas (RNG) program to our portfolio of products in 2014.  We chose to initiate the introduction of these products to our members, not only in response to market opportunities, but rather in order to lead as the energy landscape transformed itself.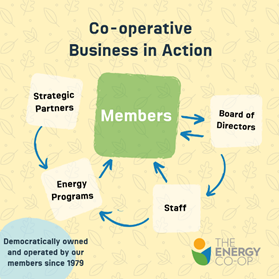 Co-operatives, by definition, are member-owned and operated, meaning we are held accountable to our members as opposed to shareholders.  This means that management practices are overseen by our members, and each of our members has voting power over management.  For example, the Energy Co-op invites members to our annual meeting each spring, where staff presents an overview of the past year and members have the power to elect the Board of Directors.  This differs from corporations because each member has one vote, as opposed to shareholders who can purchase controlling blocks of stock.  Our business practices and procedures are open and transparent to the people we serve, and the power to oversee our management is distributed equally across our membership.
Finally, because we are a non-profit co-operative, we are able to focus on fulfillment of our mission—to be a leader of today's sustainable energy evolution, to enable our members to buy energy as responsibly and affordably as possible, to assist our members to use energy sensibly and efficiently, and to educate our members and our community about energy. Whether being the first to introduce renewable electricity or RNG, we innovate programs not necessarily because they are profitable, but because they are integral to fulfilling our mission.
The co-operative business model has worked for us for the past forty years because it has allowed us to work for our members.  And we will continue to seek innovative solutions in the energy industry for as long as our members look to us to do so.