Pennsylvania Has Fallen Behind on Clean Energy Goals, but New Leadership in Harrisburg Could Give Rise to Policy Changes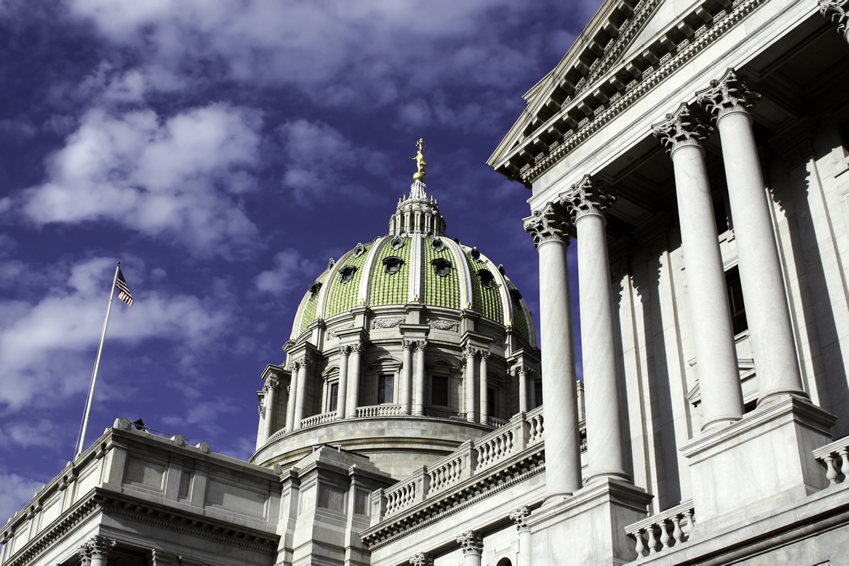 By Eric Miller – 3/30/23
With a new Governor taking office in January and control of the Pennsylvania House of Representatives switching hands for the first time since 2014, 2023 could prove to be a time of great change for renewable energy and climate policy in Pennsylvania. In recent years, Pennsylvania has fallen behind its neighbors in renewable energy generation, but new faces in Harrisburg could bring a novel approach to updating energy policy. As the 2023-2024 legislative session continues, these are the three topics that we at The Energy Co-op will be tracking to understand and evaluate their potential impact on our members and the renewable energy sector more broadly. 
Alternative Energy Portfolio Standards 
To begin, let's discuss the possibility of updating Pennsylvania's Alternative Energy Portfolio Standards (AEPS). The majority of states in the United States have renewable or alternative energy portfolio standards which mandate the minimum level of energy that must be derived from renewable or alternative sources in that state. Pennsylvania's neighbors Maryland, New Jersey, and New York have already made strides in their goals of reaching at least 50% energy generated from alternative sources by 2030. Pennsylvania on the other hand, currently has a significantly lower standard, with an 8% mandate for Tier I sources like solar, wind, and geothermal and 10% for less renewable Tier II alternative sources like waste coal, large scale hydro, and wood pulping.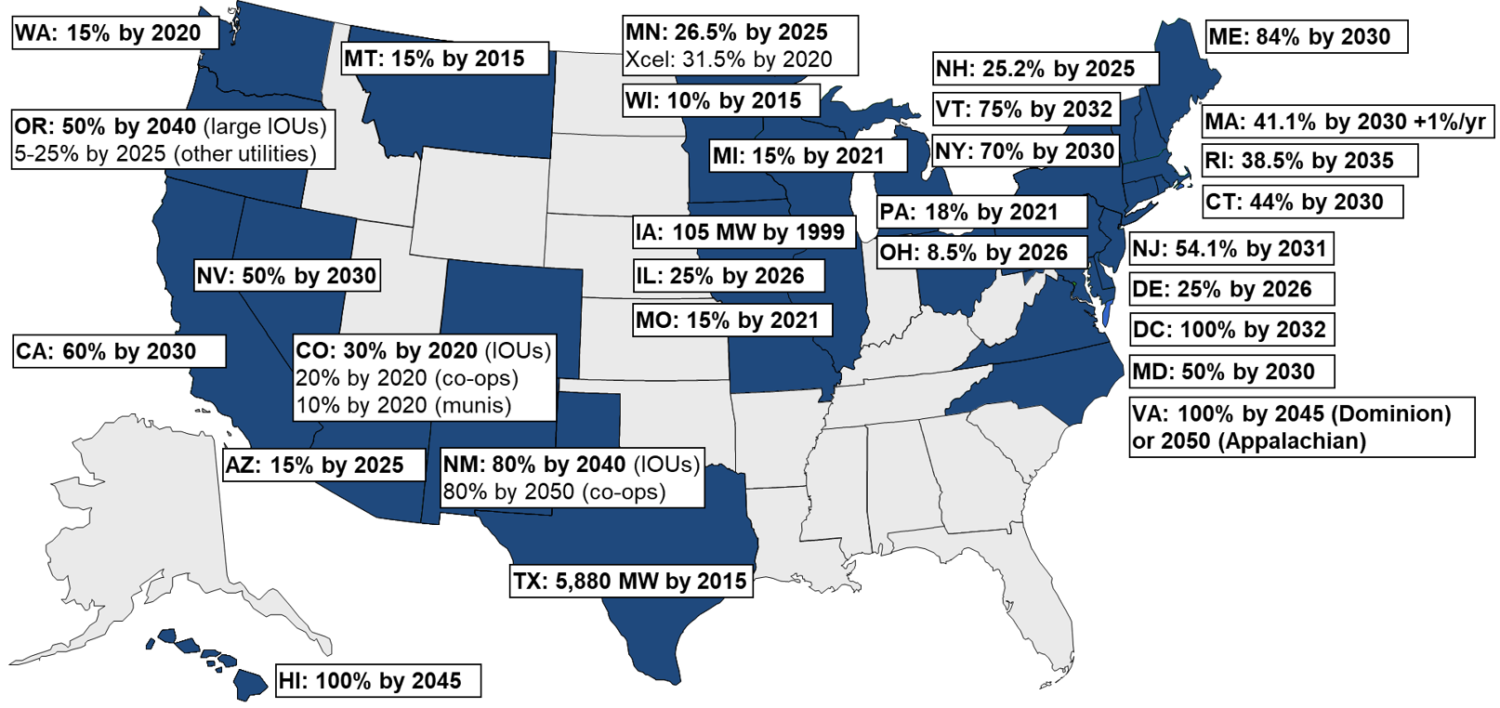 (Electricity Markets and Policy Lab) 
In the 2021-2022 legislative session, the bipartisan Senate Bill 300 was introduced, calling for Pennsylvania's Alternative Energy Portfolio Standards to be updated. It has since been reintroduced in the 2023-2024 legislative session. If passed, the bill would increase Pennsylvania's AEPS Tier I requirement from 8% to 30% by 2030, with nearly half of the 30% figure being allocated for solar. Importantly, the bill also calls on the Pennsylvania Utility Commission to study and potentially implement a program of renewable energy storage, a crucial part of Pennsylvania's clean energy future as previously discussed in our blog. 
Other AEPS legislation has been introduced this session like the ambitious Senate Bill 979, which would make Pennsylvania carbon neutral by 2050 through a 100% AEPS mandate, and have Pennsylvania invest heavily in carbon capture technology. New Governor Josh Shapiro shares many of the goals of these bills, and has pledged to sign legislation to generate 30% of Pennsylvania's energy from renewable sources by 2030 and set a goal for the state to reach net-zero emissions by 2050. 
An increase to Pennsylvania's Tier I AEPS requirements could cause a rapid proliferation of new solar and wind generation facilities in PA. This could lead to an increased ability for these sources to compete with natural gas prices, and potential price decreases for renewable electricity, in particular, locally-generated wind and solar. Alternative Energy Portfolio Standards are one of the most important factors in creating green jobs and building new renewable energy infrastructure in the commonwealth. Updating them is first on the priorities list for many lawmakers working to build PA's clean energy future. 
The Regional Greenhouse Gas Initiative 
The Regional Greenhouse Gas Initiative (RGGI) is a cap-and-trade initiative joined by 11 New England and Mid-Atlantic states that seeks to set a regional cap on CO2 emissions from electric power plants. Pennsylvania joined RGGI in April of 2022, and Pennsylvania's participation in RGGI is a crucial milestone in sustainability policy that could have wide reaching impacts for the state's emissions and clean energy investment. Should it reach the final stage of implementation, the Pennsylvania Department of Environmental Protection believes that RGGI will bolster new renewable electricity generation in the commonwealth. Most importantly, RGGI is projected to significantly decrease Pennsylvania's carbon emissions, as demonstrated below.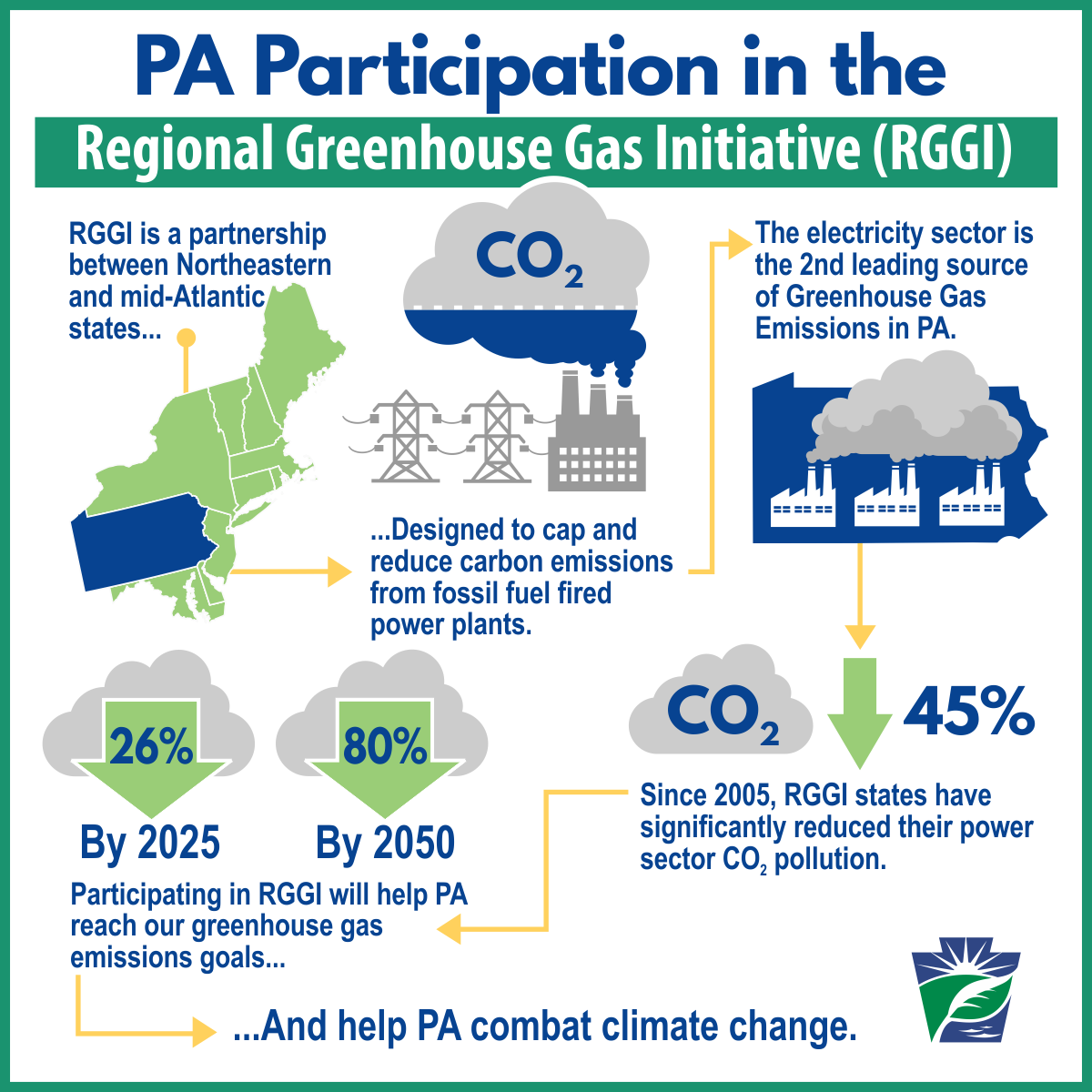 RGGI participation would also allow PA to participate in carbon allowance auctions multiple times a year. For reference, September 2022's auction alone generated New Jersey $38.6 million, Maryland $37.9 million, and New York $73.9 million for these states to put towards their clean energy goals. 
Official RGGI membership is pending, as numerous legal and legislative challenges threaten to scupper the initiative. It remains to be seen whether RGGI will clear the judicial hurdles necessary for full implementation, and the cap-and-trade program awaits an appeal to the state Supreme Court which has yet to issue a ruling.  
Solar Electricity Generation  
According to a White House report, The 2022 Inflation Reduction Act (IRA) will substantially increase solar generation in Pennsylvania. The report's findings suggest that the IRA will spur a large increase in residential solar panels in Pennsylvania, with tax credits covering 30% of the cost to install solar panels and battery storage systems. The White House estimates that 610,000 additional Pennsylvania households will install rooftop panels because of the IRA. While the IRA promises a tremendous boost to Pennsylvania solar, state-level legislation is far less robust. Pennsylvania's Alternative Energy Portfolio Standard for solar generation sits at just 0.5%, a goal that has already been reached and risks stagnation without an update.  
While many Pennsylvanians have taken advantage of the IRA and other solar tax credits to install rooftop solar, many barriers to entry exist. Installation requires homeownership, ideal environmental conditions for optimal sunshine, and a costly upfront investment. These criteria leave many out of Pennsylvania's clean energy evolution.  
To this end, community solar has proven to be a vital alternative in other states. Community solar supports those who cannot install solar panels of their own. It does this by enabling homes and businesses to subscribe to solar-generated electricity from larger-scale solar arrays.  
In Pennsylvania, community solar lacks enabling legislation, and remains illegal. Over the past few years, there have been numerous unsuccessful legislative attempts to update Pennsylvania's community solar laws. However, in recent years, bipartisan attempts have achieved some success, with House Bill 1161 passing the Pennsylvania House of Representatives by a margin of 167-33 in June of 2022. The bill ultimately languished in the Pennsylvania Senate later that year, though it has been reintroduced in 2023 as House Bill 330 "The PA Local Solar Program", with a bipartisan group of lawmakers led by representative Perry Stambaugh advocating for the bill.  
If passed, "The PA Local Solar Program" would legalize community solar, and create new jobs in solar installation and management, provide solar subscribers with a long term, fixed, solar electricity rate, and incentivize low income household participation in community solar. Like updates to Pennsylvania's Alternative Energy Portfolio Standards, updates to the commonwealth's community solar legislation could lead to an increase in new solar construction and an ability for solar to better compete with natural gas prices on the energy market. 
Looking Ahead  
Pennsylvania's failure to update its Alternative Energy Portfolio Standards, fully enroll in RGGI, and legalize community solar are just part of a broader trend. Pennsylvania is 45th in the nation when it comes to energy produced from wind, solar, and hydropower, at just 3% of our total generation.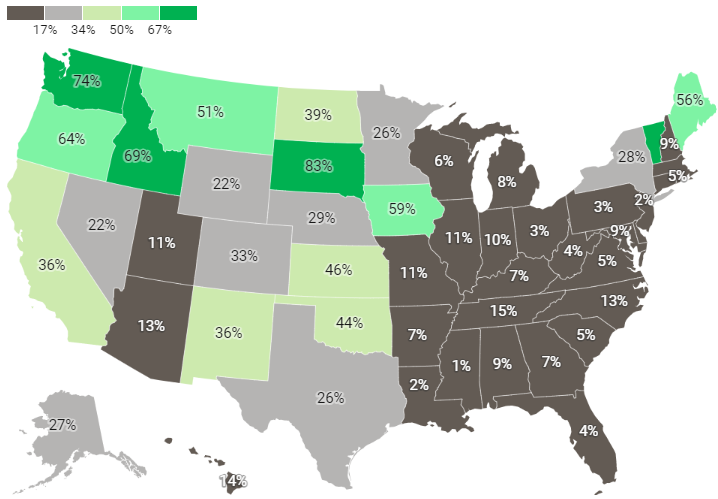 Though stagnant policy has left Pennsylvania in a poor position relative to its neighbors, a good deal of optimism is in order. There is currently bipartisan support for each of the three important renewable energy and climate reforms covered above and substantial room for growth in Pennsylvania's renewable energy sector. 
Governor Shapiro campaigned on an ambitious set of climate goals, and proposed a budget that placed these goals front and center. Exciting renewable energy legislation continues to be introduced in Harrisburg, addressing things like prevailing wages for green energy projects, tax exemptions for solar energy devices, and even offshore wind farm development on Lake Erie.  
Perhaps most importantly of all, Pennsylvanians have choices. Whether it is at the ballot box, in their communities, or through individual energy choices, Pennsylvania energy consumers have an incredible opportunity to shape the state's clean energy future.  
One way is to vote with your dollars by choosing a local, renewable energy supplier. The Energy Co-op offers 100% Pennsylvania-generated renewable electricity and 100% renewable natural gas through a local, member-owned, nonprofit cooperative organization. You can help increase renewable energy generation locally and beyond and support the local green economy. When you choose The Energy Co-op, you send a message to decision makers that Pennsylvania needs to be a renewable energy leader and assert that clean energy is the future in Pennsylvania.