Energy Market Uncertainty & Pennsylvania's Renewable Energy Future

By Divya Desai & Noah Swistak – 10/13/22 
Energy markets have been exceptionally volatile throughout the past twelve months, which, among other consequences, has resulted in rising energy prices globally. Since The Energy Co-op is a local, nonprofit, cooperative energy supplier, it can often feel as though global events shouldn't have a direct impact on us here in Pennsylvania. But the reality of an interconnected global economy is just the opposite. The Energy Co-op's staff closely monitors this complex situation and continues to manage our programs accordingly as the markets and their impact on the local economy evolve. We strive to keep our members apprised of what is happening and how it impacts The Energy Co-op membership and hope you have found our blog posts, newsletter articles, Member Town Halls, program-specific emails, and discussion at the 2022 Annual Member Meeting to be informative. And as Pennsylvanians' attentions now shift from pleasant early-autumn temperatures to looming winter utility bills, there are several important updates to share. 
High Natural Gas Prices & Market Volatility 
In Pennsylvania, as the price of natural gas goes, so goes the price of renewable electricity. A recent briefing from the U.S. Energy Information Administration (EIA) makes clear just how high natural gas prices have been throughout 2022. For the first half of 2022, the average nominal residential price of natural gas was 25% higher than for the first half of 2021, even more remarkable considering that prices in 2021 were significantly higher than the previous five-year average.  
Wholesale natural gas prices remain not only far above average, but alarmingly volatile as well. Compare the first twelve-month period in the chart below with the more recent twelve-month period. One notable but brief blip in February 2021 notwithstanding, there was general calm in the markets from October 2020 – October 2021. Prices rose steadily throughout the year, but on a relatively linear and unhurried trajectory. The past year tells a different story, with dramatic pricing swings without any clear behavior pattern.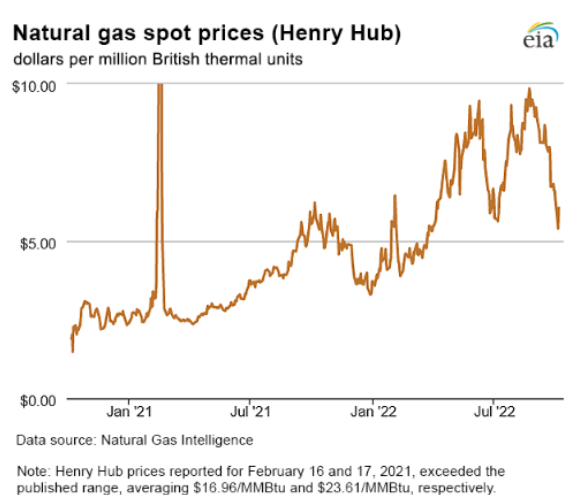 The combination of drastically higher natural gas prices and severe market volatility directly impacted Energy Co-op operations. Our baseline costs of operating both the renewable electricity and renewable natural gas programs have gone up substantially. Though we aim to keep our members' energy costs as low as we can, responsible program management for long-term viability necessitated rate increases. And the volatility since October 2021 has hindered our ability to estimate future costs for our renewable energy programs. Without some sense of confidence in future costs, 12-month fixed rates pose a notable risk to The Energy Co-op's financial health. 
Energy Futures Markets 
Natural gas futures prices surged earlier in 2022 and remain high, with prices in the summer hitting highs not seen in years. Markets saw a 12% increase between 8/1/22 – 9/1/22, and August prices averaged $8.78/MMBtu, the highest August average since 2008. The EIA attributes much of this to "hotter-than-normal temperatures in much of the country increasing demand for air conditioning, and constraints in the coal market limiting coal-fired electricity generation, both increasing consumption of natural gas to produce electricity."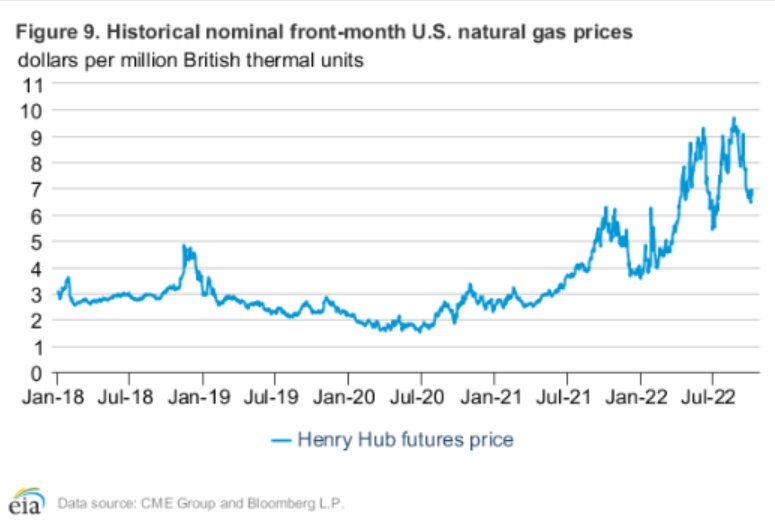 A step back to examine how these prices compare to 2018 – 2020 shows that natural gas futures now regularly trade twice as high as in recent years. This is true for both residential and commercial sector natural gas. But what is contributing to these futures? A number of factors have impacted prices and market behavior this year and will continue to have an impact this winter.  
The demand for natural gas to meet electricity generation needs diverted substantial natural gas stores away from inventory injections during the refill season (April 1 through October 31). Additionally, there is uncertainty about the impact of liquified natural gas (LNG) exports in response to continued diminished supply from Russia juxtaposed with LNG export facility suspensions, both of which impact natural gas injections and ultimate storage for the heating season. However following August, as temperatures – and subsequently energy demand – decreased while production increased, natural gas projected stores experienced substantial injections at the end of September improving the storage outlook in advance of winter. Natural gas inventories remain below the five-year average by 8% but are within the five-year range. October thus far has shown some relief in natural gas markets as prices decreased in response to cooler temperatures and lower demand. Temperatures and storms during October will be key in the final natural gas stores available at the end of refill season. There may be relief on the horizon next year, however, as futures prices drop starting in March 2023, with stabilization predicted throughout next spring. 
The IRA and Pennsylvania's Renewable Energy Future 
Renewable energy proponents across the country cheered the passing of the Inflation Reduction Act (IRA) in August 2022, the landmark legislation committing $369 billion to "climate change and energy security" investments. And cheer we should – the bill has the potential to transform the sustainable energy landscape in the U.S. for years to come and better positions the country to address many of the medium- and long-term climate goals set by states and cities. 
So, does this historic clean energy bill have the potential to bring about immediate impacts on retail prices? Unfortunately, the bill's focus on the years and decades ahead means that the IRA's passage will not abruptly bend energy cost curves downward. Furthermore, regional, state, and local hurdles remain, including a lack of legislation to aid the development and approval of renewable energy projects such as community solar and compel an update of weak state renewable portfolio standards.  
Though the IRA includes ample incentives to encourage community solar development, Pennsylvania state legislation doesn't enable action. PJM Interconnection – the country's largest electrical grid operator to which Pennsylvania belongs – has put a two-year pause on reviewing and approving over 1,000 generation interconnection projects. Pennsylvania's Alternative Energy Portfolio Standards (AEPS) (so named due to the non-renewable nature of some of the generation sources included) are in need of an update, having been set eighteen years ago and calling for compliance by 2021. As we now approach the end of 2022, several updates to the Standards have been proposed, including the somewhat ambitious SB300, however none have gained much traction with state lawmakers. 
While it's frustrating to see the Commonwealth lag behind the clean energy transition, you can make a difference. Given the chasm between the major party gubernatorial candidates' views of energy, it's reasonable to think that Pennsylvania's energy regulation landscape will change with next month's election. Make your voice count by voting in the upcoming elections for candidates that support a path towards a clean energy future. 
For further insight into current energy market conditions and potential implications for The Energy Co-op's programs, please join us for a live market update event on Wednesday, October 19, 2022, at 6pm. Our staff will provide a briefing on recent trends and what members can expect in the coming months. Members will have an opportunity to submit questions ahead of the event, upon registering. We hope to see you there.